Ann Brown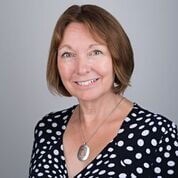 Ann Brown has a long history in senior HR management in global businesses that value people. Most recently, she was Global Head of Human Resources at Euronav, the world's largest independent crude oil carrier company. Previously, Ann was a Partner and Head of People at KPMG and spent 14 years at Capgemini as Senior VP HR. Ann also spent two years as Divisional Director HR at Nationwide Building Society.
Ann is a Trustee and is Chair of the Remuneration Committee of City and Guilds of London and is a Visiting Fellow at Kingston University Business School. She is a Commissioner for the Princess Royal Training Award and was a founder member of the City & Guilds Industry Skills Board. She lectures on Employee Engagement at Moscow Business School.
Ann actively supports university and school initiatives to encourage women into STEM (science, technology, engineering and maths) and has received industry recognition and awards for both internal innovation and externally as a driving force in the development of youth skills in the IT industry, including the development of Higher Apprenticeship program standards.