Direct-to-consumer orthodontics: information to support professional judgement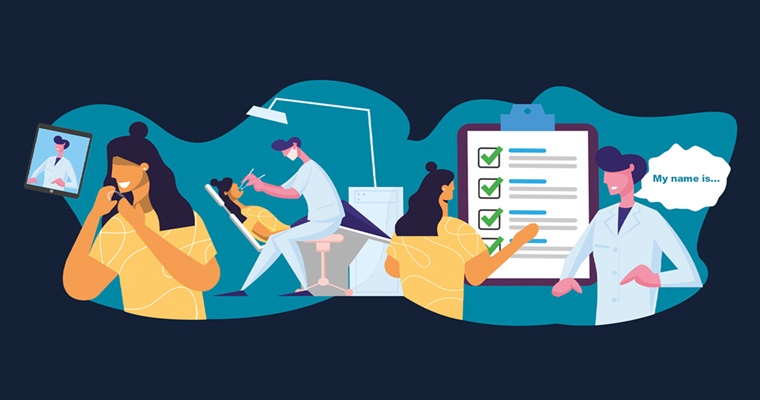 New forms of treatment can bring real benefits, especially when affordability and patient access are improved. But new approaches must not be allowed to compromise well-established measures, designed to ensure patient safety.
Our updated statement in relation to direct-to-consumer orthodontics includes important information for dental professionals. It is based on three main requirements.
In line with current authoritative clinical guidance, and orthodontic training, clinical judgements about the suitability of a proposed course of orthodontic treatment must be based on a full assessment of the patient's oral health. At present, there is no effective substitute for a physical, clinical examination as the foundation for that assessment. Should a dentist rely upon information from another source to inform their own clinical judgement, for example information from another dental professional about a clinical examination they have conducted, the responsibility for that judgement rests wholly with the prescribing dentist.
Direct interaction between patient and practitioner – whether in person or remotely – is essential for providing patients the opportunity to ask questions, provide valid and informed consent, and be satisfied that the course of treatment proposed is likely to meet their needs and expectations.
Patients must know the full name of the dental professional responsible for their treatment and be able to make direct contact with that person if they need to.
The overriding factor for dental professionals to remember however is that, as in any other setting, it is the treating dentist who is responsible for ensuring they have met all of the Standards for the Dental Team. In remote models of treatment, this responsibility rests with the GDC registrant who prescribes the treatment.
As ever, all of the Standards are important. Here though, we highlight some which may be of particular importance in relation to some models of direct-to-consumer orthodontics. Please note that this is not an exhaustive list of the things you need to be aware of, and it remains your responsibility to ensure you adhere to all relevant standards and requirements.

Standard 1.4 and 7.1 - a holistic, individual approach based on current evidence and authoritative guidance
Standard 1.4 states that 'You must take a holistic and preventative approach to patient care which is appropriate to the individual patient' and, more specifically, 1.4.1 states that 'A holistic approach means you must take account of patients' overall health, their psychological and social needs, their long term oral health needs and their desired outcomes.'
Standard 7.1 states that 'You must provide good quality care based on current evidence and authoritative guidance' and 7.1.2 states that 'If you deviate from established practice and guidance, you should record the reasons why and be able to justify your decision.'

At the moment, there is no authoritative clinical guidance that supports a remote substitute for a physical, clinical examination. Any dentist proposing to deviate from established practice and guidance in this way must record and be able to justify their decision.
Standard 2.1 and Standard 3 - effective communication and valid consent throughout treatment
Standard 2.1 states that 'You must communicate effectively with patients – listen to them, give them time to consider information and take their individual views and communication needs into account.'
Standard 3.1 states that 'You must obtain valid consent before starting treatment, explaining all the relevant options and the possible costs' and more specifically Standard 3.1.1 states that 'You must make sure you have valid consent before starting any treatment or investigation. This applies whether you are the first member of your team to see the patient or whether you are involved after other team members have already seen them. Do not assume that someone else has obtained the patient's consent. Standard 3.3 states that 'You must make sure that the patient's consent remains valid at each stage of investigation or treatment'

Direct interaction between the patient and the treating dentists is essential. It could be that the interaction takes place remotely, but it must be direct to support informed consent.
Standard 2.3.1 - introducing yourself
Standard 2.3.1 states that 'You should introduce yourself to patients and explain your role so that they know how you will be involved in their care.'
It is important that your patients know your name and that they can make direct contact with you over the course of their treatment if they need to.

Standard 4.5 - keeping patients' information secure
Standard 4.5 states that 'You must keep patients' information secure at all times, whether your records are held on paper or electronically'
In some models of treatment, the management of patient records may be handled by someone else. It does however remain the responsibility of the treating dentist to satisfy themselves that appropriate safeguards are in place to ensure records are kept secure.
Standard 5.1 - having an effective complaints procedure
Standard 5.1 states that you must 'Make sure that there is an effective complaints procedure readily available for patients to use, and follow that procedure at all times.'
In some models of treatment, the complaints process may be managed by someone else. It does however remain the responsibility of the treating dentist to ensure an effective complaints procedure is in place.
Medical Device Regulations
If the manufacture of a dental appliance has been sub-contracted, or a dental laboratory or agent which sources dental appliances from outside the UK has been used, there are additional responsibilities that you - as the treating dentist - take on. These include a responsibility to ensure that the manufacturer, or their authorised representative, has complied with all relevant obligations in the
Medical Device Regulations (MDR
).