Celebrating the extraordinary life of Edward Tull-Warnock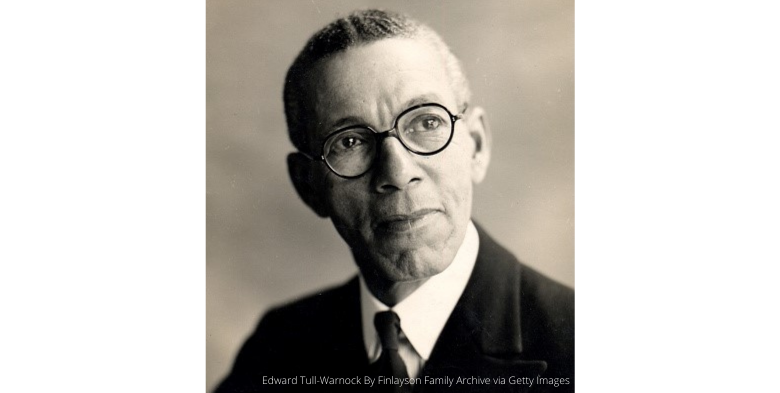 Edward Tull-Warnock is recognised as one of Britain's first Black professional dentists, qualifying in 1912. We had the privilege of bringing together the reflections of his grandchildren to celebrate his life and career in Black History Month. We would like to thank Pat, Duncan, Edward (Ed) and Iona for sharing Edward's story and their memories with us.
Edward's early life
Edward was born in 1886, in Folkestone. His father, Daniel Tull, was a carpenter, and came to Folkestone, Kent, in the mid-1800s arriving from Barbados, where his parents were born into slavery on the plantations. Daniel married a local farm worker's daughter, Alice Palmer, and they had a number of children including Edward.
Edward experienced adversity at a young age when his mother, Alice, died of cancer when he was 9, and his father died two years later of a heart attack. In the absence of any welfare state, Edward and his younger brother Walter were admitted to Dr Stephenson's Children's Home in Bethnal Green, London. Edward sang in the Children's Home choir that toured the country to raise funds. A Glasgow couple – the Warnocks - saw him when he visited Glasgow and decided to adopt him. Mr James Warnock was a dentist.

The Warnocks ensured Edward had the best education at Allan Glens School, and he then trained in dentistry – becoming one of the first Black professionally-qualified dentists in the UK.
He remained in close contact with his brother Walter, who was one of England's football's first Black players, playing for Tottenham Hotspur and Northampton Town. He also enlisted in the British Army and would become its first ever black officer to command white troops.
Edward the dentist
From family records and recollections, we know that Edward took his work very seriously and had pride in his professionalism. He started his training at the Glasgow Dental Hospital in 1906 and is described as having been an outstanding student. He went on to study anaesthesia at Glasgow Royal Infirmary and graduated with a Licentiate in Dental Surgery (LDS) in 1910.
Edward returned to work with his father in Glasgow and then found a post in Aberdeen, eventually returning to take over the practice in Glasgow, extending it to include a surgery in Girvan.
He is first entered onto the Dentist Register in 1913.
We do know from family papers that Edward believed in the preventative approach. He strongly advocated the importance of diet in relation to good dental health. He recognised that the 'modern' invention of confectionery was a major contributor to poor dental health. He also promoted the benefits of simple good regular dental hygiene, combined with routine checks, as important preventative measures.
He was a firm believer that the cost of regular dental check-ups was likely to be less than the eventual cost of extraction, fillings or making plates, perhaps an indicator of his later support for a National Health Service. One of Edward's recollections was that children would be sent to his surgery with sixpence and a message from their parents to extract as many teeth as sixpence would allow.
A man of many interests
Edward was a keen and successful sportsman. He played football at a serious level, playing for Ayr Parkhouse and Girvan Athletic. He was also a member of Turnberry Golf Club and won a number of trophies.
---
Edward was a devout Methodist, an excellent singer and led the choir at his local church. He was known to enjoy life and his grandson, Ed recalls:
"One of the strongest themes in the many and varied letters of condolence following his death was that he was a person who always brightened the lives of others – people felt benefit and pleasure from being in his company, he was a person of great energy and fun."
---
Edward believed that fun and family were important, as explained by his granddaughter, Pat:
"My grandad died when I was nearly 5 years old. I remember fun and laughter, mainly in Girvan where we went on holiday. Sunshine, sweet peas in the garden, buckets and spades and playing on the beach. Safety, love and fun were what grandad meant to me."
---
There are many parts of his characteristics and life that his family would like people to remember and associate with him.
"He seemed to be a man of integrity, who cared about others, particularly those who might have more challenging lives, a man of great humour and a man who deeply loved and cared for his family. He also had a strong faith, that showed itself in his principles and actions." Iona
---
Overcoming challenges that shaped him
Edward's son in law, Rev Duncan Finlayson, wrote memoirs which describe some of the discrimination that Edward faced in his life, we include an extract here:
"When he was finally qualified, he applied for a job as assistant to a dentist in a practice in an English city. 'I took the precaution,' he said, 'Of sending my photograph so that they would know that I was not European in appearance.'… He received word that the job was his. It was a great moment for him… So, with new suit, new equipment and the watch he took the train for England. The journey completed, and hopes at their highest... The dentist himself came to the door, took one look at him and said, 'Good God, you're coloured!' A few hours later he was on his way back to Glasgow."

However, his own struggles in life, and his experience as a dentist, seeing many patients from deprived areas in Glasgow, only strengthened his conviction that things needed to change socially and economically, including in racial discrimination.
From what his grandchildren knew of Edward's political views, he would have regarded himself as a socialist and a great admirer of the singer and political activist, Paul Robeson, who he heard speak in Glasgow. It is of no surprise that he was a strong supporter of the National Health Service.
From Rev Duncan Finlayson's memoirs:
"For years, Edward and others in the medical socialist societies had fought for a genuine National Health Service. When the National Health Service came into being, this was a great joy to him. At last, everyone would get treatment as and when he or she needed it, without regard to their personal income."
Reflecting on diversity and dentistry now
Edward died of a stroke and associated complications at the age of 64 in December 1950. Edward's grandchildren are sure that he would be heartened by the greater diversity of those now involved in dentistry. He may however have been disappointed that after all this time more progress has not been achieved in racial justice.
Like others, his family appreciate the importance of Black History Month in as much as it affords a particular opportunity to focus on diversity and discrimination. However, they also wanted to make clear that these matters are with us constantly – not just for one month – and there is no room for complacency.
Iona's, Edward's granddaughter said:
---
"We would like to thank the GDC and all dental professionals for taking an interest in our grandfather's life and story. We hope his example may give hope to others that face discrimination and adversity."
---
Watch the full and intimate conversation on Edward Tull-Warnock between Wayne Sharpe, Registration Caseworker and Chair of the GDC's REACH (Race, Ethnicity and Cultural Heritage) network, Duncan Finlayson and Edward Finlayson.

Acknowledgments
Many thanks to Pat (née Finlayson) Justad, Duncan Finlayson, Edward Finlayson and Iona Finlayson, the grandchildren of Edward Tull-Warnock.
Further reading