Black Leaders Matter: 12 months on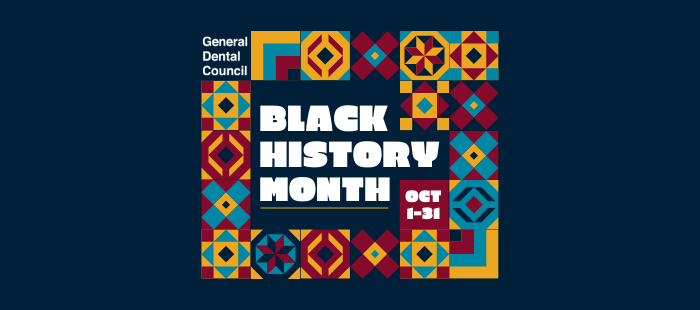 In September 2020, Funmi Oluwajana shared her thoughts on identity and leadership in dentistry as part of a series of blog posts on racism and discrimination. Just over a year on, and as we celebrate Black History Month, she revisits the events of the past year and the benchmark they have set for a promising future.
In the year that has passed since I last sat down to pen my thoughts, there are some things that are unfortunately still with us that I thought would have gone away (COVID-19), but there are other things that have persisted, despite the multilevel challenges the world and our profession has faced. It would seem that the social justice movement towards a more equitable, diverse and inclusive society and profession, as a result of the Black Lives Matters movement, has prevailed against all odds, and that gives me an immense sense of hope and joy.

Social movements carry an inherent risk of 'running out of steam'. All too often the outcry for change and justice is just a blip in an otherwise unconscious acceptance of the status quo. So the fact that we have maintained pace and pressed on reassures me that there was something different, something unique about this particular time. I'm sure there are many factors that have played a role in the sustainability of this movement, but one thing that stands out for me is the allyship. People of all different ages, backgrounds and parts of the profession have come together, galvanised by a common goal and belief, to do what only a group of unified, motivated individuals can do; change the world. The work that individuals and organisations, particularly the Diversity in Dentistry Action Group (DDAG) and the commitments made by its stakeholder members to Equality, Diversity and Inclusion (EDI), demonstrate just what can be achieved in 12 short months – more than has been achieved in the previous 12 years. So, both personally, and professionally, thank you.

As a profession, we should be incredibly proud of what we have achieved and how far we have come. But with that being said, let's not take our foot off the gas, there is still work to do. Despite our governments best attempt to deny institutional and structural racism (the less said about the Sewell Report, the better), I believe that many eyes have been opened and hearts turned towards the challenging experiences of some of our colleagues and patients. Racism, discrimination and EDI have made it on to the agenda of every boardroom meeting and every staff room coffee break chat, but where do we go from here; how do we garner our discussion and dialogue into action?

Now is the time to innovate, collaborate and accelerate. We are under no illusions that large scale cultural change takes time, energy and resources, but if not now, when, and if not us, who? My hope for the next 12 months is to be able to look back again this time next year and see a robust evidence base on which to establish reform, acknowledge change that has been reflected in policy, and continue to see a growing willingness to participate rather than spectate. In order to achieve this, we need to approach change interventions boldly, with conviction and tenacity. We need to engage widely and encourage partnerships and alliances. Most importantly, we must anticipate resistance and approach challenges and conflict with resilience, utilising our networks for support.

The horizon looks promising. The landscape has been primed and conditioned for change, the seeds have been sown and watered. I'm excited to see where we are in another 12 months' time, when there are even more fruits of our collective labour to share.