Diversity in dentistry: a fruitful future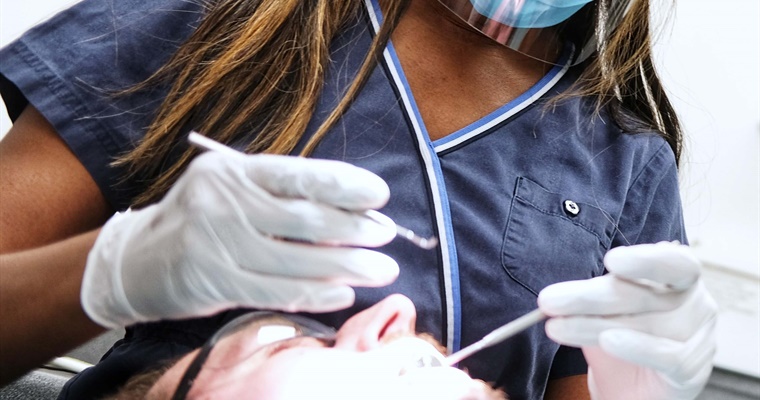 In this guest blog piece, 3rd year dental student, Jade Kwaku, talks about her experience of being a Black dental student and how proud she is of the collective efforts to start combatting the issues within the dental profession.
Fortunately, I was introduced to dentistry as a prospective career choice after moving to a new Sixth Form. My new school was very medicine, dentistry and veterinary medicine driven and many students applied to these courses.
When contemplating why I chose dentistry, I had to think back to if I'd ever seen a Black dentist before. Luckily, I remembered watching Dr Uchenna Okoye many years ago on the popular "Ten Years Younger" TV series. Many Black dental students I have met, all had the same experience of the first Black dentist we ever saw being Dr Okoye and pursued dentistry after seeing her. The power of positive role models must not go unrecognised. You see, representation normalises diversity in dentistry for all, inspires many to follow in the footsteps of a person who looks like themselves, and helps combat societal stereotypes.
My dental school experience
Consuming every dental student's mind are the apprehensions of meeting our first patients. We begin questioning our competency and whether or not we are truly ready for the responsibility that comes with treating a real person. However, for myself as a Black student, the harsh realities of my predecessors with a similar complexion to me, getting patient refusals and racial harassment was what filled me with dread. It is an inevitability that I have had to prepare for. I found myself navigating my way through dental school with the constant fear of always being racialised and attributed to the negative stereotypes and biases held in society of Black women.
Within the tiny cohort of Black students across the UK, we found ourselves bonding over bad experiences of microaggressions. We found ourselves questioning,
"Does 'professionalism' permit me to carry on treating a patient after being degraded on the basis of race?"
OR
"Are there systems and processes in place to effectively protect me against discrimination from anyone, to include patients, superiors and peers, without being ostracised?" and "what do we do?".
How far we have come
Returning back to dental school following the recent social media activism and resurgence of the BLM movement was a daunting prospect. Discussions of race had previously been a divisive subject. However, thanks to the overwhelming support and empathy of my peers and university, I was quickly reassured with positive actions and attitudes towards race!
Organisations have used their platforms to raise awareness and discuss issues of discrimination to a large audience. They've hosted insightful webinars, formed Anti-Racism Steering Committees within dental schools, authored intriguing articles in popular dental publications and pledged support with research and education to help combat these issues for both patients and professionals. We have established that no organisation or individual is exempt from fighting racism, prejudice and their discriminatory effects in our profession. The younger generation (myself included) have been empowered to also speak up and harness the guidance, wisdom and discernment of our predecessors to all work together to bring about a new age of dentistry.
A promising future
Throughout our different working groups and committees, we have deduced the antidote to fighting any form of discrimination plaguing our profession. The cure: Awareness, Research, Education and Evaluation.
I am truly proud of our collective efforts to start combatting the issues within our profession and am immensely grateful for all the progress that has been made! We all have the capacity to truly recognise and empathise with the struggles the 1% of our GDC register are disproportionately faced with. We are a collective of inspiring, introspective and honourable healthcare professionals. Our dental community has a duty to maintain momentum to ensure that the future of dentistry is evolving to be a diverse, equal and inclusive one.