Professionalism: working with the dental team to support patients with additional needs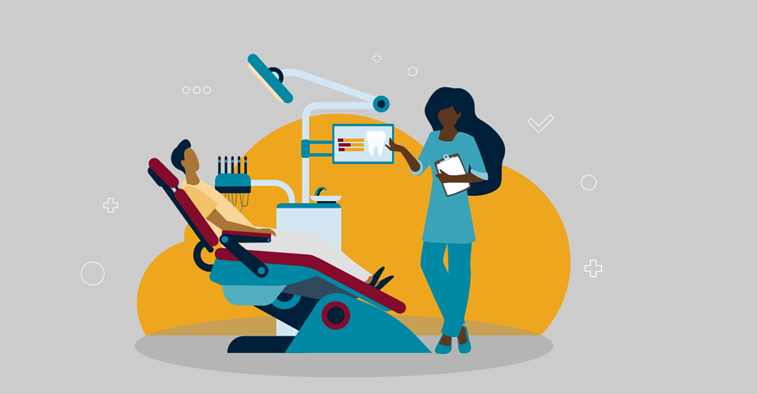 UK dental teams work together in a variety of settings providing dental services and oral healthcare to patients. Some of these patients will have complex needs and other vulnerabilities that dental professionals need to consider and support during their care and treatment.
Monica Matanda and Jyoti Sumel are both dental therapists who work with patients with additional needs, and here they share what their role entails and what it's like working as part of a dental team in a community setting. Both Monica and Jyoti currently split their time between clinical practice and developing their strategic, leadership and management skills as clinical fellows.
A day in the life of a dental therapist: oral healthcare in community settings
Monica and I both work within Community Dental Services (CDS) providing dental care to patients with additional needs, phobias, and complex medical histories. We only provide services to patients referred to us and who meet our criteria, and we do it under the prescription of a dentist.
We are both experienced dental therapists. Monica has worked in community dental services for over 10 years now, and me for three years. Here we want to share a few insights into what we do on a day-to-day basis and why we think it is important to support patients who might need a bit of extra care and attention from the dental team to meet their oral healthcare needs.


The first thing we wanted to do when first starting with CDS was to encourage more patient referrals into our service from the wider dental team. We went about it by first raising awareness of our scope of practice within the team, and creating a new prescription template to make referring to the service easier. By doing this we were able to complete more treatment within our scope, allowing the dentist to carry out treatment that only they can do. The immediate effect was a shorter waitlist for our patients.
Our clinical day consists of a mix of hygiene and therapy work, from routine hygiene, oral hygiene advice to periodontal treatment, stainless-steel crowns, restorations, and extractions under local anaesthetic. Working in a community setting allows us to work to our full scope of practice and enhance and develop our clinical skills. We work in several clinics over the course of the week – giving us access to different equipment - this keeps things interesting. We also visit care homes and other residential facilities to provide domically care, and oral hygiene advice and training for carers.
The complexity of our patient group means that they need longer appointment times to enable us to provide the extra care and attention required to carry out treatment. Providing care and treatment to our complex patient group also means exploring various supportive equipment, techniques, and tools to provide the most suitable treatment to our patients.
Our clinics are accessible to all, and we sometimes see patients who are transported to us by ambulance. Within our setting we have access to a bariatric chair, wheelchair tippers , as well as a hoist. We can also access additional tools such as projectors, the dental wand, and inhalation sedation. Projectors are a brilliant visual tool for our patients, which not only help younger patients through their treatment but also some of our older patients.
The dental wand is a computerised anaesthesia system which slowly controls the release of the anaesthetic making it more comfortable for the patient. It is a great piece of equipment for our younger patients and those who are needle phobic, as it's much more aesthetically pleasing compared to the generic needle.
Dental therapists can undertake additional training to provide inhalation sedation to patients, without the need to be supervised by a dentist, and this has benefits for patients and the team. There are a variety of courses available, Monica attended a SAAD course, but I was able to do an internal course provided by CDS. Having dental therapists provide inhalation sedation not only increases their skill set, but reduces pressure on the dentist and reduces the wait for patients. Most importantly, it provides continuity to the patient, as they have the same clinician from acclimatisation through to the completion of their treatment.
Dental therapists in community dental services can also participate in training for the annual dental surveys to develop their skills and support the assessment of oral healthcare needs amongst their patients.
As you can see, the community setting we work in provides loads of opportunities for us to continue to develop - not only our clinical skills – but also how we work to support patients who are vulnerable and/or have complex needs. The key is working effectively with the wider dental team to ensure our patients are receiving the quality care they need when they need us most.