Bill Moyes' post-June Council blog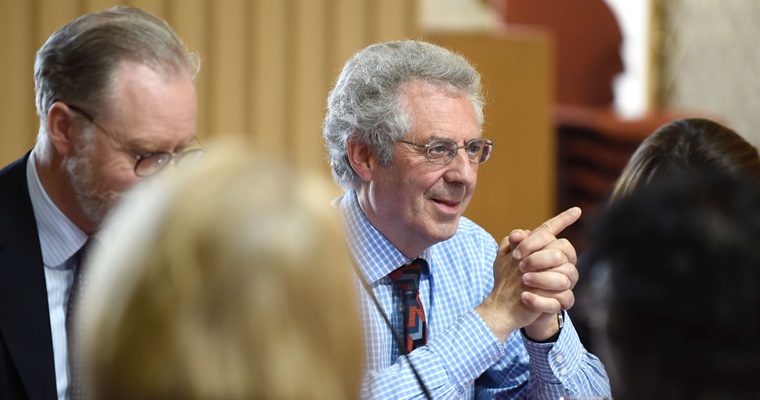 The Council held its first meeting in Scotland on 21 June. This proved to be a worthwhile - and enjoyable - experience for both ourselves and the many stakeholders we met during our two-day visit to Edinburgh.
When the Council approved the new stakeholder engagement approach last year, it was agreed that priority would be given to re-balancing GDC engagement, particularly in the way in which we work across the four nations of the UK.
This meeting was the first in what we hope will become a rolling programme of visits across Wales, Scotland and Northern Ireland, with at least one Council meeting a year being held in one of these nations.
During our time in Scotland we met a significant number of stakeholders and registrants, including patient representatives, registrants, members of the Scottish Government, education providers and representatives from the professional bodies.
One of the most rewarding aspects of the trip was the opportunity we had to meet and engage with people during an Open Council meeting, which included a Q and A session. We were delighted that nearly 60 people took up the invitation and came to meet us in Edinburgh. They were also keen to engage actively with us during the event. In the question session we were asked a wide range of questions about our current challenges and their impact on both registrants and patients.
Council and executive management team members also spent an afternoon visiting a range of venues to experience first-hand the work of some of our registrants and education providers.
I visited Glasgow Dental School, along with two of the registrant members of the Council, Caroline Logan and Cathie Brady; and our Executive Director of Strategy, Matthew Hill. We had a good discussion with the staff and with a group of students, with whom we talked about our plans for engaging with students across all the dental schools, which will be piloted in the next academic year. They were encouraging and had interesting ideas for us to consider. We also saw some of the school's teaching tools and facilities, which were fascinating. The only low point was seeing the burnt-out ruins of the Glasgow Art School, which is a near neighbour of the Dental School.
In addition to these opportunities, we staged bilateral meetings with government and regulatory representatives; public and patient representatives, education providers and professional associations, thereby maximising the opportunities afforded by this visit.
We have received positive feedback from those we met, and I know I speak for all Members when I say that the trip was entirely worth the effort. I would like to thank all those who attended our sessions, shared their views and made us welcome. I hope we have demonstrated that we are open, approachable and ready to listen.
During the Closed session of the meeting and following our recent recruitment campaign, the Council endorsed a Scottish-based registrant to be a member of the Council to replace Lawrence Mudford when his second term expires in September. The Council's recommendation will now go to the Privy Council for approval, and I hope an announcement can be made in the near future.
One of the GDC's key priorities is to improve the effectiveness of the Fitness to Practise (FtP) process and we are now seeing visible results from the considerable work that has been undertaken in this area. The number of cases progressed continues to rise steadily. In the second quarter of this year 456 FtP cases will have been progressed, compared to 228 in the last quarter of 2017 and 352 in the first quarter of this year. In addition, the End-to-End Review, set up to deliver a fairer and more proportionate FtP operation, has also now entered the delivery stage, with work scheduled to be completed in June 2019. This is six months earlier than originally planned.
The project to relocate part of the GDC to Birmingham, to maximise the cost effectiveness of our estates strategy, is progressing to plan. A site for the new Birmingham office has now been identified and we will be in a position to announce this shortly. Recruitment to roles which need to be located in Birmingham is going well, but there are still opportunities available. Please visit our
recruitment website
for details.