Announcing the new GDC Chair and Council Member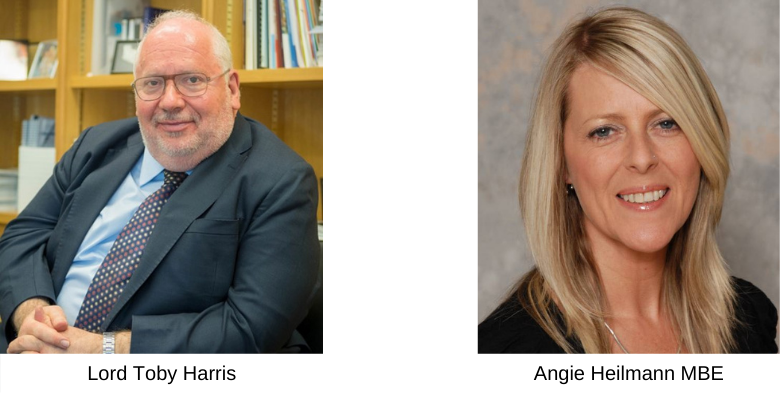 Following a competitive recruitment process, we are pleased to announce the appointment of Baron Harris of Haringey ("Lord Toby Harris") who will join the GDC as Chair of Council, and Angie Heilmann MBE, who joins as a registrant Council Member.
Both will take up their new posts on 1 October 2021, when the current Chair Dr William Moyes and Council Member Catherine Brady leave office at the end of September.
Lord Toby Harris has spent his career working in the public interest, with a focus on consumer protection, security and policing, and healthcare inequalities. He brings 40 years of non-executive experience.
He currently chairs the National Preparedness Commission, bringing together a wide range of stakeholders to improve the level of preparedness in the UK to major threats and shocks, and the Fundraising Regulator, which oversees charitable fundraising and was established to raise standards and improve public trust in the sector. He is currently undertaking a review of London's preparedness to respond to a terrorist incident, which is a follow up to the review he conducted five years ago.
He has previously chaired several public sector bodies, including the first Chair of the Metropolitan Police Authority (MPA), and subsequently on behalf of successive Home Secretaries oversaw national police work on counterterrorism and security. From 2009 to 2015, he was the Chair of the Independent Advisory Panel on Deaths in Custody, that reports to the Ministry of Justice, the Home Office and the Department of Health and Social Care. He also led at the request of the Minister for Prisons the independent review of self-inflicted deaths in custody of 18 to 24 year olds published as 'The Harris Review – Changing Prisons, Saving Lives' in 2015.
Lord Toby Harris spent 12 years leading the Association of Community Health Councils, representing the interests of the public in the NHS. He is a former council leader; member of the London Assembly; and he was the first Chair of the Association of London Government (now London Councils) that led cross-party collaboration across the London boroughs and prior to the creation of the Greater London Authority acted as the democratic voice of Londoners.
He is also the Chair of the Independent Advisory Group on Ethics for the National Crime Agency and the outgoing Chair of National Trading Standards, which delivers national and regional consumer protection enforcement activity.
Lord Toby Harris graduated from Cambridge University in 1975, having studied Natural Sciences and Economics and where he was President of the Cambridge Union. He was made a life peer in June 1998 and is the Chair of the Labour Peers Group in the House of Lords.
Angie Heilmann MBE (previously McBain) is a registered Dental Nurse who has had a long clinical and academic career. Firstly, in Scotland and then moving to England in 1986. Angie qualified as a Dental Nurse in 1989 and went on to achieve NEBDN qualifications in Dental Sedation Nursing (with Distinction) and worked in clinical practice until 2007 before focusing solely on Dental Nurse Tutoring.
Angie has held a number of educational and tutoring positions since then, most recently as the Dental Workforce Development Regional Advisor for Heath Education England (East) until 2020 and is currently the Director of Dental Nurse Education at Cambridge Dental Nurse Academy, the dental nurse arm of Antwerp Dental Academy. Previously, she was part of the team that introduced Foundation Degrees in Dental Nursing at the University of Bedfordshire.
Angie has held a number of non-executive positions, including President of the British Association of Dental Nurses, Chair of the Local Dental Education Committee at Luton and Dunstable Hospital. She is the only Dental Nurse to have sat on the Council of the Society for the Advancement of Anaesthesia in Dentistry (SAAD). She holds a Masters of Medical Education from the University of Bedfordshire and was awarded an MBE for Services to Dental Nursing in 2012.
On the announcement of his appointment Lord Toby Harris said:
"I am very pleased to be joining the GDC as Chair of Council and look forward to working with my fellow Council Members and the Chief Executive and his senior management team, to ensure that we remain an effective and efficient regulator and that we ensure that public protection is at the heart of everything we do.
"At this time of significant change and after what has been a very difficult period for many dental professionals as a result of the COVID-19 pandemic, I look forward to working collaboratively with colleagues from across the professions to ensure that our approach to regulation is proportionate and focused on the important areas of public safety and ensure public confidence in the professions we regulate."
Current Chair, Dr William Moyes added:
"It is great news that the GDC has secured the services of such an experienced Chair and Council Member. I look forward to working with Lord Toby Harris to ensure a smooth transition over the coming months, and to welcoming Angie Heilmann to her role as Council Member."
On her appointment Angie Heilmann said:
"As a registered Dental Nurse, having worked in dentistry for over 30 years I am thrilled to be joining the GDC as a registrant member of Council.
"I look forward to working with my Council colleagues and contributing to making the journey better for both patients and professionals."
Both Lord Toby Harris and Angie Heilmann start their new roles on 1 October 2021.