Dental hygiene and dental therapy: skills development and career progression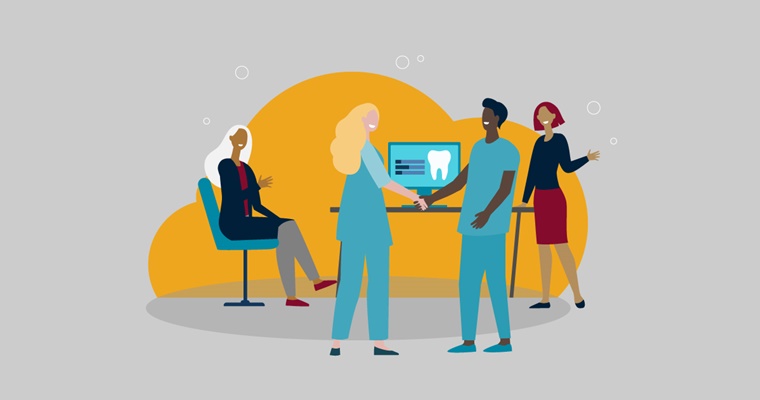 Monica Matanda and Jyoti Sumel are both dental therapists working in community dental services. In their final blog post of the series, they take a look at the postgraduate training and career opportunities for dental hygienists and dental therapists, and some of the sector developments in leadership.
Both Monica and Jyoti currently split their time between clinical practice and developing their strategic, leadership and management skills as Clinical Fellows.
There are plenty of options for development and progression
There is a great deal of interest in the future role of dental hygienists and dental therapists in the delivery of oral healthcare across the UK, and plenty of new opportunities for career development and progression. Dental hygienists and dental therapists can not only develop their clinical dental skills, but branch out into areas such as education, public health, dental sales, clinical leadership and practice management. Some even choose to own and operate their own dental practice.
For dental hygienists looking to increase their scope of practice by upskilling to a dental therapy qualification, there is a one-year course on offer from the University of Essex.
Postgraduate development opportunities are also on the increase, with several universities now offering master's degrees in a number of areas. The University of Highlands and Islands and the University of Glasgow offer an MSc in Oral Health Science. And there is a postgraduate diploma in paediatric dentistry for dental therapists - the first of its kind to be offered by a Royal College, the Royal College of Surgeons Edinburgh.
Development support from Health Education England (HEE)
HEE's Advancing Dental Care Review final report was published last year. The aim was to identify and develop a future dental education and training infrastructure to produce a skilled multi-professional oral healthcare workforce, which can best support patient and population needs within the NHS in England.
Advancing Dental Care aims to:
give dental trainees diverse experience of managing complex care, comorbidities, and a better understanding of the communities they serve in changing care models and pathways
improve the use of the skill mix of the dental team and multi-disciplinary team working
provide flexible training to support workforce retention, career progression, and an equitable distribution of postgraduate dental training places.
The changes that Advancing Dental Care hopes to bring will mean further opportunities for all dental professionals in England - to increase their knowledge and skills, as well as develop new capabilities and competencies.
Advanced Clinical Practice and the opening up of fellowships
Advanced Clinical Practice in oral healthcare will be a new and exciting development within dentistry for dental therapists. Advanced practitioners are an integral part of the 21st century NHS workforce, as new models of care are transforming the way patients are treated.

Advanced practitioners offer multiple benefits to the health service and the public, such as:
More holistic care for patients.
Continuity of care.
The ability to extend scope beyond traditional boundaries.
The Advanced Clinical Practitioner role is currently in development, it will be a Level 7 Qualification, MSc. It will allow further career development opportunities for dental therapists.
HEE has also opened up its Fellowship programme, which is an exciting step. Fellowships are extremely important in dentistry, and essential for the development of future leaders. They involve enhanced leadership development, something hard to do in clinical practice.
As Clinical Leadership Fellows, we're developing our skills through experiential project work. We're gaining in depth knowledge in policy development, project management, communication skills and stakeholder engagement through project leadership. As Clinical Fellows, we're also given opportunities to gain knowledge and understanding into the commissioning of dental services.
Both Jyoti and I are currently working on a lot of exciting projects while being mentored by highly respected leaders within HEE, NHS England and Improvement, and the Office of the Chief Dental Officer in England. Including dental care professionals alongside dentists in leadership development is a step in the right direction. It is removing barriers, demonstrating how diversity and inclusion are valued, and helps to ensure everyone can contribute.
We are both currently carrying out mentoring training. I am involved in a Level 3 Chartered Management Institute Award in Coaching and Mentoring with Dutton Fisher Limited and Jyoti is participating in a reciprocal mentoring course with HEE and the In Diverse Company. We hope to be able to share our experiences and learning with other dental care professionals.
We are both pleased to see how the roles of dental hygienists and dental therapists have continued to evolve, grow and develop over the years, and there are some particularly exciting new developments coming in the very near future. We wish you all every success with whatever path you choose to take in your future career.